"...evoking the need for change, poetically prefiguring reality
and suggesting alternative lifestyles..."
Lucy Orta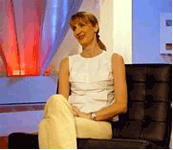 Lucy Orta
is one of the most unusual fashion artists working today. Since the beginning of the 90's Lucy has realized what she called "architectures with soul". Alongside this activity and feeding into her work Lucy also holds the first Rootstein Hopkins Chair of Fashion at London College of Fashion. She also founded the Master in Industrial Design 'Man + Humanity' at the Design Academy in Eindhoven, a program that stimulates socially driven and sustainable design solutions in the form of systems and products.
Design with Soul and Social Link

The design of objects that respond to a critical and constructive gaze on the most sensitive areas of society, evoking the need for change, poetically prefiguring reality and suggesting alternative life styles.