"…not Happiness nor Wealth,
but Joy and Beauty are two of the major people's demands…"
Raimon Panikkar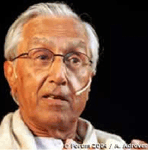 Raimon Panikkar
is the co-director of the Parliament of the World's Religions. He has been professor at the Universities of Madrid, Rome, Harvard and California, where he has taught Indian culture, History and Philosophy of Religions. He has published more than 40 books and he has created the Fundación Vivarium, dedicated to promoting the dialogue between the religions of the world.
Beyond Prosperity
The materialistic aspects connected with the concept of prosperity, progress, comfort and growth are problematic. Neglecting human need for spirituality is one of the major problems of our Western civilizations. Artists have the task to translate and transfer the sublime into their work. Not happiness nor wealth, but Joy and Beauty are two of major aspirations everyone seems to be searching for.