"…What is the 'why' of innovation? What is the 'how' of design?…"
John Thackara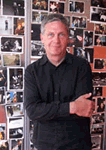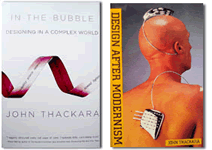 John Thackara
has long been a major force in design. His last book In the Bubble is the first strong, thoroughly documented statement on the importance of the local and the embedded in our fluid, hyper-connected world. He is the director of Doors of Perception (Doors), a design futures network with offices in France and Bangalore. He organises collaborative innovation projects in which designers, together with grassroots innovators and citizens, develop new service concepts and prototypes in real locations. He also helps cities and regions build new institutions that enable designers, other specialists, and citizens to learn and work together in new ways.
Power Laws of Innovation
Lots of things need to be redesigned in ways that make good business but without adding to today's flood of pointless products. John Thackara made up ten power laws of innovation that could change the bigger picture as well as the quality of our every-day life.